U.S. Sen. Angus King (Ind.) says the House-passed health care bill, "the most ill-conceived, damaging and downright cruel piece of legislation that I have ever seen," will cost Maine people their health insurance.
U.S. Sen. Susan Collins (R-Maine) is concerned about its impact on older and rural Americans, of which Maine has a disproportionate share.
U.S. Rep. Chellie Pingree (D-Maine) calls the bill "reckless."
Last week, even President Trump called it "mean, mean," though he had feted its passage in the White House rose garden. The repeal/replace Obamacare bill passed the U. S. House by two votes. Maine's other Congressman Bruce Poliquin was one of them, and he makes no apology for that.  "Do I look like a mean person to you?" he asks. He does not. But the legislation in which he played a pivotal role may have some really mean fallout.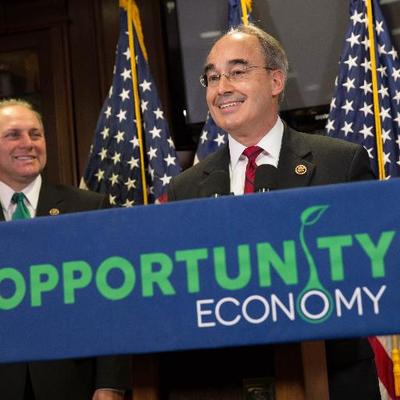 Fixated on our national debt, he is not disturbed by the fact that the House version of the Republicans' American Health Care Act (AHCA) has the support of a scant 20 percent of the American people. He says his focus is on policy, not popularity. Speaking to The New England Council, the former businessman said "We all want the same thing: "we want our kids and families to be safe, we want our kids to have a good job, have health insurance and a good education."
The impact of passage of the AHCA on Maine has been deeply analyzed, by the Center for American Progress, the Kaiser Family Foundation, the Consumers for Affordable Health Care, and more.  According to their analyses, the AHCA would leave 117,000 fewer Mainers with coverage by 2026. Without Senate intervention, the impact would be felt not just by the 60,000- to 80,000 who get their coverage through Obamacare, but the tens of thousands who would lose Medicaid dollars. ($800 million would be cut nationally over the next decade, paid for largely by a massive tax break for wealthy Americans.) Others would lose employer-based coverage with the elimination of a rule requiring employers of a certain size to provide health insurance.
Poliquin disputes that the repeal/replace strategy would eliminate a ban on the use of pre-existing conditions to exclude people from coverage or charge rates to sick people high enough to make policies unaffordable. But the addition of a high-risk pool to cover those affected provides only a pittance of the money  that would be required to protect them.  He wants states to be able to set their own thresholds for benefits included, and, drawing from the state of Maine experience, places an incredible amount of faith in the states to do the right thing.
Poliquin is not a bomb-tossing Freedom Caucus type; indeed, he presents as thoughtful and earnest.  He says he has a child with asthma, mother with thyroid difficulties, and a father with high pressure – all preexisting conditions.  "I would never ever even consider voting for any piece of legislation that does not protect people with preexisting conditions," he told Council members.  He voted for the AHCA because he claims it protects them.  But insurers would be allowed to raise premiums on people with preexisting conditions high enough to make coverage unaffordable.
He is rightly concerned that a third of counties in America are left with just one insurance carrier because the insurers can't make money by participating in Obamacare.  Without competition, premiums have gone through the roof. But insurers are dropping out because of congressional threats and uncertainties in the market, thus creating a self-fulfilling prophecy.
Poliquin says his preferred strategy is to find what works and fix what is broken, but he doesn't want to mend/not end Obamacare. While I might have been reassured that he belongs to the "Tuesday Group" of moderate Republicans, he surely played a key role in the success of the House's repeal/replace (baby-out-with-the-bath-water) approach. Things could get worse. We don't know whether and to what extent the Senate version will remedy any of these issues because it is being crafted by 13 men behind closed doors, with no public hearing and, as yet, not even sharing of the draft with other Senate members.
Poliquin comes across as sincere and accessible and makes a big deal of making his cellphone number widely available.  One Boston hospital executive concerned about disabled children had thanked Poliquin for his accessibility. But on the sidewalk outside the Hampshire House meeting of the Council, about two dozen protesters -many having traveled to Boston from Maine – disagreed. Laurent Gilbert, Sr. was mayor of Lewiston, Maine from 2007 to 2012. "Sure, we have his cellphone number," he said, "but he doesn't return our calls."
Ridgely Fuller of Belfast, Maine, faulted his failure to do town halls and other meetings. Without a dialogue, she said, "we have no way of understanding what his vision is for Maine." (I called his office yesterday to ask for a list of recent public meetings but haven't received a reply.)
Karen Handel won yesterday in Georgia's 6th, (one of the nation's most highly educated districts) in part by distorting what's in the AHCA. She avoided mentioning Donald Trump.  She will be a comfortable companion for Bruce Poliquin.  Moderate rhetoric aside, they and their colleagues should be judged in the 2018 mid-terms for how their actions meet or fail to meet the needs of Maine, Georgia and the rest of the United States.
I welcome your comments in the section below. To be alerted when a new blog is posted, click on "Follow' in the lower right portion of your screen.